High starting point
Megacore integrates the experience of many fitness experts and advanced technology and adopts the latest industrial design concept.
Good material
Made of high-quality metal materials and excellent craftsmanship, it can withstand an impact much higher than the strength of traditional Pilates beds and is durable.
Good quality
Megacore is authorized by international well-known brands to manufacture on behalf of industry and commerce, and the ISO quality control system ensures that every process and every detail meets the standards.
Rich Function
Megacore is designed to be fully functional and ergonomic with adjustable resistance, allowing users to tailor their workouts to their specific needs and goals. Course applications including Pilates, yoga, aerobics, and strength training can be achieved. It is a multifunctional fitness equipment.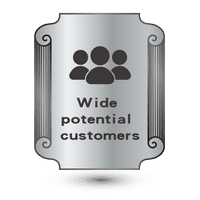 Multiple Customers
Megacore can exercise the core muscles, small muscle groups, and other muscle groups of the whole body, can correct and optimize the body shape, and can meet the needs of young people to middle-aged and old people, from rehabilitation people to sub-healthy people, from people who love beauty To the fitness needs of different customer groups such as professional professionals.
Wide Scenes
Megacore has a compact size, making it suitable for various spaces from homes, and studios to large gyms.
EASY MAINTENANCE
Megacore is easy to clean and needs minimal maintenance to keep it looking its best.
Good prospects
With the recovery of the epidemic, more and more people are concerned about their health. The novel and efficient method of giant energy core bed exercise is being paid attention to and adopted by more and more people.
Low Competition
Megacore provides professional customization, which can be differentiated according to customer needs and adapt to different markets and customer groups.
TESTIMONIALS
WHAT OUR
CUSTOMERS
ARE SAYING
Megacore is an excellent workout tool that delivers amazing results. It really helps my business in My studios.
Megacore is suitable for people of all ages and fitness levels, making it an ideal choice for anyone looking to improve their health and fitness.
I love that the Megacore can be adjusted to suit any body type or fitness level. My customers are satisfied with it.